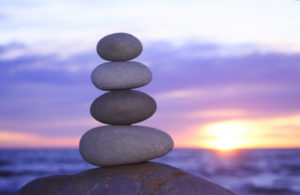 I spent the first two months of 2014 developing a solid daily meditation practice, and the next step towards my goal of achieving greater life balance was to add exercise to my daily routine. The first week went well.  I exercised every morning and continued to meditate regularly at night. Then we switched to daylight savings time and it all fell apart.  I was tired and not feeling well, so I gave myself permission to take a day off, then another and another.
I started reading the book, The Willpower Instinct: How Self-Control Works, Why It Matters, and What You Can Do to Get More of it, by Stanford University psychologist Kelly McGonigal, to help me get back on track.
In the first chapter she wrote, "every willpower challenge is a conflict between two parts of oneself." She recommends identifying, naming and being mindful of these different parts.  Since I am a great believer in the existence of multiple parts of self that unconsciously impact our actions,  this resonated strongly for me. Thinking of it in these terms helped me to gain some needed perspective.
I realized that the self-indulgent child part of me that craves instant gratification was saying "I don't wanna" and "please don't make me" about getting up and moving in the morning and winding down at night, and my overindulgent parent part was saying "ok, you don't have to." I also noticed that instead of remaining mindful and pausing to give myself a chance to reflect on what I really want, my wise woman part seemed to be on vacation or missing-in-action.
Identifying the parts of self that were working against my long-term goals helped me to realize that I wasn't doing myself any favors by giving in to my indulgent impulses.  So I started an internal dialogue to give voice to all three of these parts and to start meeting my needs first before satisfying my desires.  This has helped me to start to get back on the road towards greater self-discipline and balance.
For more information about Kelly McGonigal's approach to willpower, you can view a talk she gave about her book: http://kellymcgonigal.com/2012/06/12/willpowerbooktalk/.  Topics addressed include addiction, cravings, procrastination, motivation, mindfulness, sleep, exercise, goal-setting, habits,  guilt, shame, and self-compassion.
Do you have internal conflicts about willpower? Which of your parts are in conflict over this? Does this parts-of-self approach to willpower conflicts sound helpful to you? Please share your thoughts about this topic below.