It is the 17th day of the Real Happiness 28-Day Meditation Challenge. For the past two weeks, I have been working on mindfulness of emotions at night.  I have mostly been using a guided meditation by Sharon Salzberg that encourages noticing what emotions arise while initially focusing on the breath, which can be found on the CD in Real Happiness and on the Workman Publishing website: http://www.workman.com/realhappinessebook/.  I have also tried Ron Siegel's Stepping into Sadness and Stepping into Fear meditations, which can be found in his book, The Mindfulness Solution and on the website for the book: http://www.mindfulness-solution.com/DownloadMeditations.html.  These two meditations helped me to fully experience difficult emotions.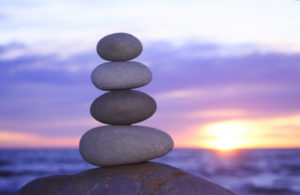 Sharon Salzberg, Jack Kornfield and Tara Brach all talk about a four step process of becoming mindful of emotions that can be remembered with the acronym RAIN – recognition, acceptance, investigation and non-identification.  Achieving balance involves noticing, accepting and exploring our emotions, while being careful not to identify with them. We strive neither to avoid nor to cling to our emotions, but to be mindful of them in the moment and notice how they come and go, like waves in the ocean.
I noticed some lingering sadness about a couple of losses that I experienced over the past couple of years and focusing on it during meditation helped me to fully experience the sadness and move past it.  Then one night I realized I was delaying meditating because of unacknowledged fear.   Franklin Delano Roosevelt said, "The only thing we have to fear is fear itself."  I think it would be more accurate to say, "The only thing we have to fear is the fear of fear."  It is the fear of fear that causes us to avoid it and try to block it from our minds.  When we face our fear, it becomes more manageable.
Once I acknowledged the fear, I was able to face it. And once I faced it, I was able to overcome it.  During my meditation I went from noticing anxiety, rising doubt, a little fear, some regret and then hopefulness that I could overcome this obstacle.  And once I started feeling hopeful, the fear faded away.  Avoiding the fear made it seem insurmountable.  Facing the fear made it quite tolerable and fostered a sense of hopefulness that helped me to overcome it.
I have been practicing lovingkindness meditation in the morning, focusing on wishes for myself, specific family members, friends and clients, as well as a general wish for all beings everywhere. I have found that this helps me to have a positive attitude, even in challenging circumstances.
May I be safe, May I be healthy, May I be free from suffering, May I be peaceful, May I be balanced, May I be happy.
May you be safe, May you be healthy, May you be free from suffering, May you be peaceful, May you be balanced, May you be happy.
May all beings be safe, May all beings be healthy, May all beings be free from suffering, May all beings be peaceful, May all beings be balanced, May all beings be happy.
I decided it was time to shift the balance even further, by actively fostering positive emotions during my nighttime meditation. I started listening to Sarah McLean's soul-centered guided meditations and plan to try more of them, as they have already had a powerful impact in a short time.  Ocean Visualization & Self-Love Affirmations; Gratitude Meditation & Appreciating Your Life;  Transcendence & Loving Yourself; I am Aware – The Intention to Awaken…  These and many more of Sarah McLean's meditations can be found on the Winter Feast for the Soul website: http://winterfeastforthesoul.com/index2.php?dest=meditations_mclean.
I intend to continue working on balancing negative and positive emotions in meditation and in life.  How do you work on achieving this balance?